My name is Richard Chamberlain and welcome to my little corner in the grand theatre. The lights are dim and with drink in hand, the trailers are getting ready to start. But first, a little about myself.

I have loved movies since the mid-70s with my first viewings of the Universal Horror classics and the original Planet of the Apes. With the addition of cable television in our home circa 1978, my world was expanded with the inclusion of two 24/7 television stations. Eventually getting a job at Duncan's Movie Magic in Topeka in 1988 sealed my fate. I was a cinephile and a collector. My wallet has never forgiven me.

​While writing was once a passion in my youth and eventually became part of my day job, it wasn't until 2012 that I allowed it to merge with my love of movies. After years of appearing on various podcasts, including the B Movie Cast, I wrote my first two articles for the B Movie Man website. 

By October 2012, I launched the Monster Movie Kid blog. After a stint with The Basement Sublet of Horror magazine and several guest appearances at Free State Comicon in Lawrence, I was invited to join the Dread Media podcast in July 2015. After joining the Boom Howdy staff in November 2016, I then launched the Classic Horrors Club podcast with Jeff Owens in January 2017. In June 2017, I was accepted into the Kansas City Film Critics Circle. 

With Kansas City Cinephile, I am expanding my cinematic horizons. Here I will review all genres of film. Classic horror will still be discussed and Monster Movie Kid is still alive and well. But at KC Cinephile, you'll find a broader palate of movies discussed, both classics and new releases.

Now, the gentle whir of the projector has fired up and the theatre has darkened. It's showtime! You aren't going to talk through the movie are you?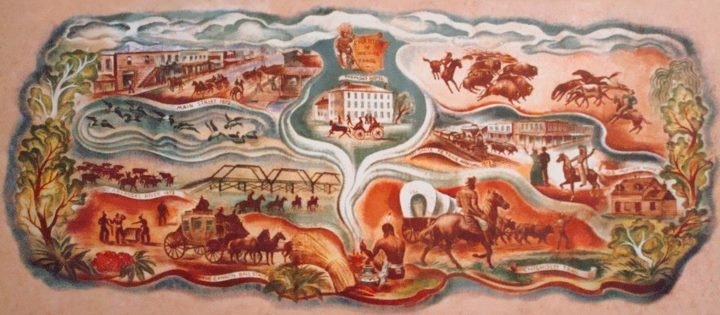 This was one of two murals that graced the walls of the wonderful Crest Theatre in Wichita, Kansas. I first visited this grand old theatre in 1978 to watch Superman: The Movie. I was hypnotized by the murals, not to mention the balcony, which I had never seen before. It was a cinematic experience that impacted me beyond measure. The theatre is long gone now but the memories of that Saturday afternoon live on!